02/10/2022
Football is a numbers game. Points on the scoreboard. Yard lines on the field. Numbers on jerseys.
At the PRAC, we know numbers. We've spent the last two years tackling $5 trillion in pandemic relief spread across more than 400 programs, so you can know where it went.
So, while you're paying attention to what's happening inside the stadium, we'll show you what's happening outside the stadium – with pandemic relief money.
Image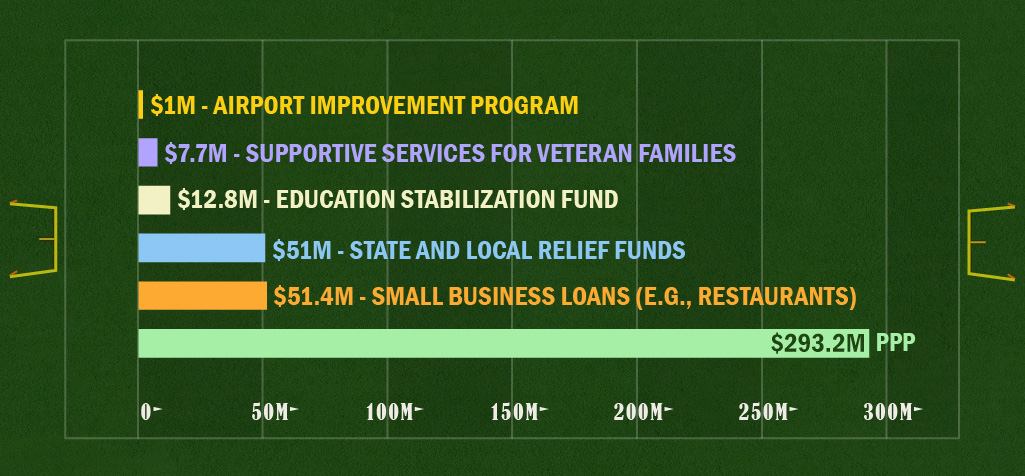 Businesses got $51.4 million, like grants to restaurants and entertainment venues. That figure doesn't include the 6,100 forgivable loans worth $293 million that businesses received from the Paycheck Protection Program.
Schools got $12.8 million from the Education Stabilization Fund, a new program designed to help prepare and respond to the impacts of COVID-19 on students. We've reported how the data in the Education Stabilization Fund is full of dead ends, so in many cases it's hard to know how the money was spent.
Another $1 million came from a federal program designed to help airports recover financially and make improvements. The city is putting that money towards an existing project that's soundproofing 333 residences from the noise caused by the nearby airport.
The city also received $7.7 million from the Supportive Services for Veteran Families program. The federal program was established in 2011 and is administered by the Department of Veterans Affairs to support community organizations working to prevent homelessness for low-income veterans and their families.
The city also got at least $19.1 million from the Coronavirus Relief Fund and $31.8 million from the State and Local Fiscal Recovery Fund. Both funds give state & local governments, Tribal governments, and U.S. territories money to help cover a wide range of expenses incurred from the pandemic. Inglewood spent some of its Coronavirus Relief Funds on nutritional programs for elderly populations, COVID-19 contact tracing and testing, and personal protective equipment for schools.
Want to see where pandemic relief dollars went in Cincinnati, Ohio, and Los Angeles, California, (whose teams are playing in the game)? Check out our easy interactive dashboards loaded with data to help you follow the funds.
Notes:
The relief funds described were issued to recipients with addresses in Inglewood, California. It does not necessarily mean it was the place of performance for a particular project.
It's possible the total amount of relief that went to recipients in the city is more than the amounts shown, but our data is limited in some cases. For example, there is no formal or standardized reporting requirements for entities (e.g., school, city) that get Coronavirus Relief Funds from a sub-recipient.
Page last modified:
08/10/2022