06/23/2020
Today, Michael E. Horowitz, Acting Chair of the Pandemic Response Accountability Committee (PRAC), announced the release of a tool to track the federal government's contract spending for pandemic relief.  The dataset is part of the PRAC's "Track the Money" transparency tool on the Committee's website to provide public insights into how $2.4 trillion in federal emergency relief and response funds are being spent.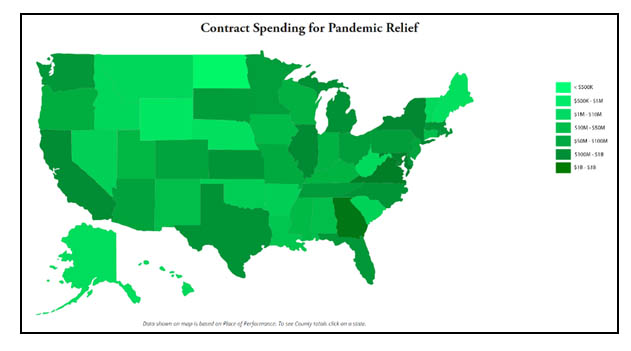 Users can download the entire dataset to conduct their own analysis by examining contracts by category – for example medical services and equipment, janitorial services for government buildings, and personal protective equipment (PPE) and safety supplies for government workers.  The PRAC also created an interactive map for users to explore the total amount of contract spending by state and county.  
The contract spending tool uses information from the Federal Procurement Data System and will be updated weekly. 
The PRAC was established by the CARES Act to promote transparency and support independent oversight of the funds provided by the CARES Act and other related emergency spending bills.  In addition to its coordination and oversight responsibilities, the PRAC is tasked with supporting efforts to "prevent and detect fraud, waste, abuse, and mismanagement [and] mitigate major risks that cut across program and agency boundaries."
If you have additional questions, please contact Lisa Reijula @ lisa.reijula@cigie.gov.